Okay...so I probably should have chosen a different title, but I am now officially on 3rd Shift at the hospital! I have been waiting for this for a long time now. I was on 2nd shift for two long years, and after having no social life and NEVER getting to see Gray awake, it was time for a change. I have switched departments in the lab, so I've been doing a lot of training to get ready for the new tasks at hand, but it's been great.
Hematology is my first love, and always will be. It has all of the things that I hold dear...blood, body fluids, diffs....if you know what I'm talking about then you are a lab rat too! I'm now going to work in Chemistry and Blood Bank. I hated this idea at first, but after being in the departments and getting my hands dirty with it, I'm starting to like it more. Blood Bank still scares me half to death, but I'm getting the hang of it. I will be holding down the fort by myself at night, so I'm hoping that everyone in town stays safe and healthy...for their sake and mine!
I think the hardest part of working 3rd is going to be my sleeping arrangements. We have "Daddy Day Care" so I know that Gray is always safe and taken care of....but since she will be home, I can hear "MAMA" loud and clear through the walls. Maybe I'll learn to sleep a little harder than I usually do, or maybe I'll invest in some really good earplugs.
I am looking forward to cooking again. Being on 2nd shift doesn't allow for cooking, unless you want to go all-out to make lunch, and I never felt like it. Now I can get supper ready and spend the evening with my two loves before going in to work. I know Hubby is pretty happy about this too. (I think he was getting tired of eating fast food and freezer meals.) I can't say that I blame him. This will be a good switch for our family to spend more time together!
There are some really exciting things coming up in "Blog Land." I have a new tutorial for you coming this week...and it's a "No Sew!"
The "10 Crafty Days of Halloween will be starting soon at
The Crafty Nest
. Make sure you check out all of the goodies for Halloween, including a tutorial from me!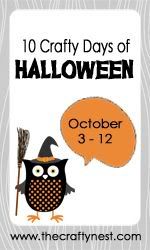 Voting for Purse Week at A Lemon Squeezy Home begins Monday. I can't wait to see who all made the top 10.



<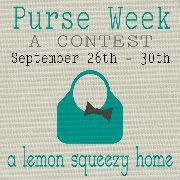 Finally, Hideous, Dreadful, Stinky is having a Halloween costume party. They will be featuring some wonderful handmade costumes throughout the month of October. Psssst....Gray's costume will be there too!

I'll keep you updated so you can check out all of the fun!