They sent me three bars of their natural soap to try out:
Summer Citrus, Rose Vanilla, and Plumeria.
I dove right into my shower, and opened up the Plumeria scented bar. It was wonderful. The scent is light and fragrant. The lather was silky and rich.
But most importantly, it left my skin feeling clean, and moisturized with no dryness or weird soap residue.
They have so many great "flavors" of soap (as I like to call it) available. There's something for everyone.
Lilac
Lavender
Plumeria
Night Jasmine
Cafe Mocha
Cherry-Almond
Mango Papaya
Green Tea Mint
Fruit Slices
Cool Fresh Aloe
soap loaves and packaged soap gifts.
I have loved working with this company and learning about their soaps. Here is what they have to say about their product:
"Our soaps are made from all natural vegetable oils, scented with pure essential oils from plant extracts and colored with organic herbs. We use no synthetic fragrances, colorants or preservatives in any of our soap products.
The result is a gentle bar suitable for all skin types, even for those with sensitive skin."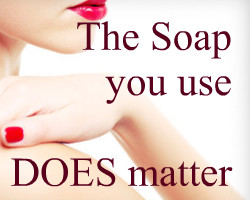 I know if you try these natural soaps you will fall in love with the way your skin feels and smells. My bar is still in my shower and I am LOVING it.
*This is a sponsored post. I recieved these products free of charge to give my opinion. All opinions are my own.*