After a long night of crafting I finally finished my necklace for the "Black Tie Wedding" in three weeks. I figured I had better do it now before I got too busy with Gray's birthday party! I'm very pleased with how it turned out. Hubby even seemed to like it, which was a shock because he is a huge fan of pearls....lots of pearls. Big or "costume" jewelry really isn't his thing. I was inspired by these two necklaces from where else, Anthropologie.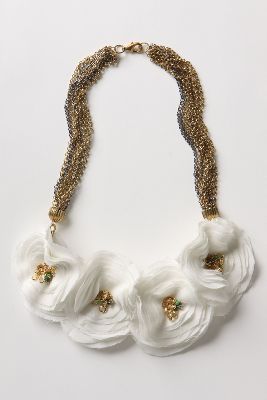 One was too "metallic" and the other was too fluffy. I knew I wanted flowers and the bib style so this is what I came up with.
I wanted to share with you how I put it together so you can make one, or a similar one for yourself for everyday, or a special occasion! The best part...NO SEWING!
Materials:
Satin Ribbon 1.5-2 yards
Fabric rosettes, yo-yos, ribbon flowers, etc
Pearls, sequins, rhinestones, beads, other embellishments
Hot glue gun
Felt or fleece
Begin by creating the flowers you want to use for your necklace. I pulled some rosettes I already had on hand out of my stash, and made a few more blue ones because I wanted mine to be mostly blue.
I didn't take pictures making the flowers, but you can use these tutorials if you don't already have a method in mind!
Ribbon Flowers by KojoDesigns
Rolled Flowers by Happy Together
Yo-yos would also be really cute, as well as fabric pinwheels.
Once your flowers are assembled, lay them out to see how you want them to lay. I should have thrown one more black one on there to make it even, but I like it anyways. Then grab your hot glue gun and attach them to your fleece or felt. Make sure to only glue the centers of the flowers, because you'll be trimmning the fleece away.
Take your embellishments and place them where you want them to be. I decided to just use pearls, but rhinestones or sequins or beads would look neat too! Play with it and see what you like. I had the tiny pearls left over from my wedding (3 years ago...talk about craft hoarding!) that I used to monogram our unity candle.
Once they're glued down and you're happy with the shape, take your scissors and trim the fleece away from the back so none is showing from the front.
Here's a view of the back
Check out your flowers to see if you need to place glue anywhere to hold them more firmly together. My little flowers on the ends needed a little drop of glue to hold them to the big flowers.
Finally, hot glue your ribbon to the back of your flowers.
Now throw it on with your favorite cocktail dress or t-shirt and enjoy the compliments when you say "I made it!"
Here's the dress I'm wearing....pretty boring. It needs color, bad.
I threw it on with a t-shirt for size and to see how it looked. Not too shabby!
I'll be sure to post pictures of it in action after the wedding.
Happy Crafting!
If you make one of these I would love to see yours in the
Flickr Group