It's no secret that I love a good monogram. In fact, I love any monogram, pretty much anywhere! I'm even lucky enough to have a husband who appreciates the personal touch that a monogram can add to an outfit or home décor item.
In planning out my crafting for the next few weeks and months, I want to add a few more monograms to my life. Here are some things that I already have in my home, as well as a few ideas that I'll be trying out soon. Updates will follow of course!
The monogrammed pillow, as well as the large framed wall monogram were both part of my
Bedroom Redo
Our
Year Round Wreath
has a monogram as well as the southern charm of a palmetto tree to welcome guests to our home.
When doing the "Big Girl Room" makeover, I made baby girl a framed monogram. The frame is from Hobby Lobby, and I used my silhouette to cut her monogram out of cardstock, then layered it with pretty scrapbook paper! Easy and very pretty.
It may be small, but adding a monogram to our rocking chairs makes a sweet little statement. This is where WE belong.
In the next few months, I want to make a gallery wall in our house.
The Baeza Blog
has made this gorgeous monogram for her wall, that I would love to have too!
Nine and Sixteen
used a crisp linen for her pillows, and I love the subtle white monogram on these.
On The Table Designs
sells these monogrammed burlap placemats, but they would be quick and easy to DIY with either en embroidery machine, or with freezer paper stenciling.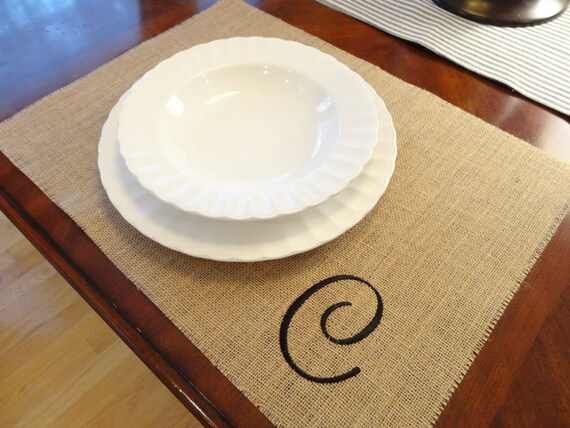 Pottery Barn
sells beautiful sheets, and you can have them personalized for you. I need to take some of the sheets we have now and add a little "His" and "Hers" to our pillowcases for a personal touch.
I have friends who would monogram everything in their house if they could. We like to say...
"It's not mine til it's monogrammed"
It's so true.