Now I've gone and done it....I've jumped on the "Yellow and Gray" bandwagon. I didn't love this combination at first, but now I LOVE it! It's bright but not too over the top, and is very sophisticated.
I've been working on my submission for
Purse Week
at A Lemon Squeezy Home.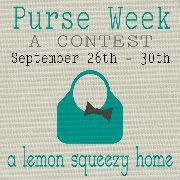 Here is some yellow and gray goodness that I have found on Pinterest that helped inspire my bag....
And here is my bag!! I've named it "Lemonade"....not really sure why but I like it!
The front and back is pleated at the top for a fun design. It's fully lined and has interior pockets.
It's made from my original Carolina Breeze Pattern. I needed a more "wintery" bag, so the usual burlap of the Carolina Breeze had to go. I used Duck fabric this time and it worked wonderfully!

I have my fingers crossed that the bag does well in the Purse Week judging, but if not...I still have a super cute and functional bag to use! Voting for Purse Week starts October 1st, so check back in and see all of the wonderful bags.